PR Novo is a boutique, award-winning PR Agency. PR Novo outpace changes in today's rapidly evolving media landscape by bringing brand, advocacy, reputation, and business results to new heights. Our journey started in 2019 when we landed our first client. From working with Individual entrepreneurs to Fortune 500s companies, we have come a long way!
We are legally based in Delaware, the United States, and Hong Kong. We have an awesome team from four countries, and we work remotely. 
From increasing consulting fees by 3x to raising $175 million, our PR services have helped many businesses increase their market presence and build authority in their niche.
We are dedicated to bringing recognition and helping our clients stand out crowd!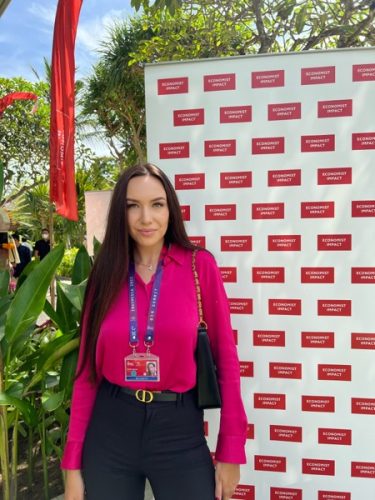 Sofia Shved, CEO - PR Novo at Economist Impact Summit of G20
Our Mission + Vision +
Core Values
Mission – to use PR as a tool for transforming the lives of entrepreneurs and give them the exposure they deserve
Vision – To become the most sought-after PR company
Core Values – Under promise and over deliver
every time!
Professional. Dynamic. Enthusiastic. Creative.
Team
A glimpse of our 2022 annual meet in Bali